TOYOTA LAUNCHES NEW INTERACTIVE TOOLS AND 'APP' TO MEASURE FUEL EFFICIENCY SAVINGS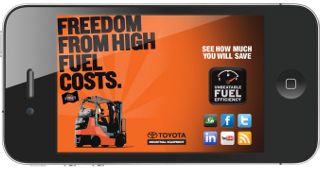 January 26th, 2012 - Toyota Material Handling, U.S.A., Inc. (TMHU), the supplier for the No. 1 selling lift truck in North America, launched its Toyota Forklift Fuel Efficiency Calculator application (app) to help users estimate fuel efficiency savings and performance for their forklift fleet. The interactive Forklift Fuel Efficiency Calculator is available on iPhones, smartphones, iPads and Android tablets.
"Mobile phones and tablets are an extension of the workplace. This app makes perfect sense to provide businesses instant access to their potential forklift fleet fuel savings, productivity and efficiency gains," said Melinda Beckett-Maines, national marketing manager for TMHU. "In addition, Toyota's new 'mobile-friendly' website (www.toyotaforklift.com) simplifies content and navigation for customers to view information on our products and services from their mobile device."
The free downloadable app provides users with the ability to enter their detailed material handling specifications. The calculator measures a number of user-specific variables including fuel efficiency, run times per cycle and speed advantage per cycle.
The app then breaks out the detailed fuel efficiency user specs into the following data options:
Fuel gallons per hour per unit
Fuel costs per hour, day, week and year per unit
Fuel efficiency improvement
Fuel cost savings per unit per year
Fleet fuel cost savings per year
Run Time Improvement Per LPG Tank
Run time per tank
Run time per tank improvement (minutes)
Run time per tank improvement
Speed Advantage Per Cycle
Average Time Per Cycle
Performance advantage – each cycle
Average Cycles per work day (cycles)
Performance advantage (additional cycles per day)
Performance advantage per work day
For those seeking a traditional interactive tool, an online Forklift Fuel Efficiency Calculator option is available at www.toyotaforklift.com.
About Toyota Material Handling, U.S.A., Inc.
Celebrating 45 years of established operations, Irvine, Calif.-based TMHU is the supplier for the No. 1 selling lift truck in North America since 2002. In addition to the full line of high-quality lift trucks sold under the Toyota brand, the company's extended industrial equipment solutions include Automated Guided Vehicles and tow tractors.
Quality is the hallmark of the Toyota Production System practiced at all Toyota manufacturing facilities, including Toyota Industrial Equipment Mfg., Inc. (TIEM), a zero-landfill facility in Columbus, Ind. TIEM, named a 2011 North American Best Plant by IndustryWeek magazine, is a member of the National Safety Council, complies with the ISO 14001 standard from the International Organization for Standardization and has produced more than 400,000 Toyota lift trucks since its opening in 1990.
Toyota's commitment to excellence in customer service extends throughout the U.S. and Canada. With more than 70 authorized Toyota Industrial Equipment dealers and more than 220 dealership locations throughout North America, Toyota dealers offer comprehensive customer service and support, including one-stop shopping for both new and used lift trucks, rentals, parts and service, fleet servicing and financing. For more information on TMHU, please visit www.toyotaforklift.com, www.facebook.com/ToyotaForklift or twitter.com/ToyotaForklift or call 1-800-226-0009.