TOYOTA MATERIAL HANDLING UNVEILS GRAND OPENING OF NORTH AMERICAN NATIONAL HEADQUARTERS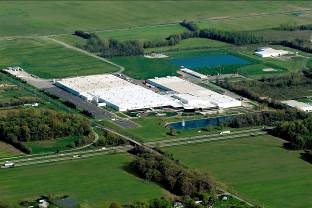 November 4th, 2013 - COLUMBUS, Ind. -Toyota Material Handling, U.S.A., Inc., (TMHU), maker of the number one lift truck in North America, today unveiled the company's new North American headquarters in Columbus, Ind.
The ceremony, which included a ribbon cutting and line-off of the company's new 8-Series large capacity forklift, marks the final stage of a strategic initiative to align TMHU's sales and marketing team with its manufacturing plant-Toyota Industrial Equipment Mfg., Inc. (TIEM).
The new North American headquarters represents a $4.6 million dollar investment, adding 21,400 square feet to the Toyota campus, which includes the manufacturing facility and national headquarters. The combined TMHU and TIEM campus now totals more than 1 million square feet of manufacturing and support space and houses more than 1,000 Toyota associates.
"Toyota made a commitment more than one year ago to align our teams under one roof to combine synergies and allow us to be even more responsive to customer and dealer needs," said Jeff Rufener, TMHU president. "Today, we celebrate this partnership and set our sights on continued leadership in the market and support of our associates, dealers and customers."
World-Class Campus Supports Continued Growth Locally and Abroad
Toyota has become the industry leader through unparalleled quality of lift truck design and leading-edge manufacturing capabilities. In 1990, TIEM became the first Toyota lift truck manufacturing plant outside of Japan.
During the last two decades, TIEM associates have built more than 450,000 lift trucks and Toyota has steadily grown in the North American market to become the number one lift truck supplier since 2002.
"Toyota celebrates several milestones today that will continue to strengthen our position as a world-class leader while serving the best interest of our customers. By uniting TMHU and TIEM onto one central campus, we are fostering increased collaboration that will further improve efficiencies and product development. Additionally, with the introduction of Toyota's large capacity 8-Series lift truck, Toyota continues to deliver innovation in product performance, fuel-efficiency and safety to our industry," said TIEM's President Toshiya Yamagishi. "Looking ahead, TIEM's model of excellence will be emulated in a new lift truck manufacturing plant in Sao Paulo, Brazil."
As the 'lead plant' for Toyota's Sao Paulo manufacturing facility, TIEM associates from Indiana are responsible for training the Brazil plant leaders on production engineering, manufacturing, quality assurance and production control. Upon completion of the new facility, TIEM will be the first Toyota industrial manufacturing plant outside of Japan to supply parts to a Toyota Industries Corporation plant in another country and is expected to supply the Brazil plant with 31% of its forklift parts manufactured in Indiana.
TIEM Investment in Community Represents More than $117 Million
When TIEM established its state-of-the-art, $60-million lift truck plant operations in 1990, the facility covered approximately seven acres under one roof. Since that time, TIEM has undergone 12 expansions. The zero land-fill campus now totals more than 1 million square feet of facilities sitting on 126 acres. Representing an investment of $117 million, the campus includes the new North American headquarters, National Customer Center, training center, manufacturing operations, and distribution centers for equipment and service parts to meet the needs of Toyota's customers.
The facility has the capability to manufacture a wide range of industrial equipment used in a variety of indoor and outdoor environments including: 3-wheel and 4-wheel electric lift trucks, internal combustion cushion tire and pneumatic tire lift trucks and DC/AC inverter assemblies for the Toyota Tacoma.