TOYOTA SUPPORTS THE PLANTING OF MORE THAN 30,000 TREES AND CONTRIBUTES AN ELECTRIC PALLET TRUCK TO THE ARBOR DAY FOUNDATION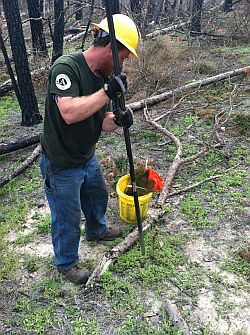 February 18th, 2014 - Long-standing Relationship with Arbor Day Foundation Results in Nearly 90,000 Trees Planted
COLUMBUS, Ind. - Toyota Material Handling, U.S.A., Inc. (TMHU) today announced that it is planting more than 30,000 trees through the Arbor Day Foundation. The plantings will occur this year in U.S. and Canadian forests and communities, damaged by fire or other natural causes, and are the result of TMHU's commitment to plant a tree for every new Toyota 8-Series lift truck sold in the U.S. and Canada in 2013. This latest milestone pushes the total number of trees planted to nearly 90,000 since the company first formed a relationship with the nonprofit organization in 2006.
Separately, TMHU ran a Facebook photo contest benefitting five nonprofit organizations, including the Arbor Day Foundation. As part of the philanthropic program, Toyota asked participants to submit a photo with a short description to nominate coworkers volunteering in the community and to choose one of five nonprofit organizations to receive a brand new Toyota electric pallet truck. As a result of the contest, the Arbor Day Foundation will receive a new Toyota electric pallet jack for use at the Arbor Day Farm in Nebraska City, Neb. The Toyota electric pallet truck will increase the productivity of shipping millions of trees to Arbor Day Foundation members and partners throughout the nation. "The Arbor Day Foundation is proud to have a long-standing relationship with Toyota and to share a common vision of being responsible stewards of the environment," said John Rosenow, founder and chief executive of the Arbor Day Foundation. "Toyota's investment will enhance our forests and surrounding communities."
Global Environmental Charter
"Toyota has a long history of implementing environmentally conscious programs and is delighted to once again support the Arbor Day Foundation," said Jeff Rufener, president of TMHU. "In addition to working with important organizations such as the Arbor Day Foundation, our company's sustainable initiatives extend to product innovations in electric and low emission IC forklifts, and our zero-landfill manufacturing practices implemented at Toyota Industrial Equipment Mfg."
Since the inception of Toyota Industries Corporation's Environmental Action Plan in 2005, the company has implemented 1,700 energy-saving measures resulting in a CO2 emission reduction of 120,000 tons and in fiscal year 2013 alone decreased CO2 emissions by 17% globally throughout its production operations.
Toyota continues to explore a range of technologies that use existing fuels and alternative energy sources in an effort to meet the evolving needs of the material handling industry today and well into the future. These efforts include the introduction of products such as the new 8-Series large capacity 8,000 - 17,500 lb. cushion and pneumatic lift trucks, which include newly designed diesel and gas engines that enhance performance and fuel economy.
About The Arbor Day Foundation
The Arbor Day Foundation is a million members environmental education nonprofit, with a mission to inspire people to plant, nurture, and celebrate trees.