TOYOTA "GIVING VETERANS A LIFT" PROGRAM EXTENDS THROUGH 2014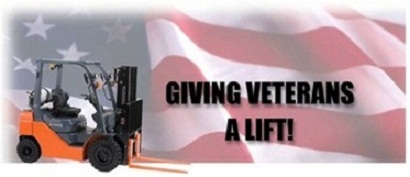 February 20th, 2014 - Dealership Technician Career Opportunities and Operator Safety Training Extended to Veterans
COLUMBUS, Ind. - Toyota Material Handling, U.S.A., Inc. (TMHU), supplier of the number one selling brand of lift trucks in North America, announced the extension of the company's "Giving Veterans a Lift" dealership technician career and operator safety training program through Dec. 31, 2014. Toyota created the program to help veterans find employment and equip them with job skills to support a career in the material handling field. The program also assists Toyota dealers recruit qualified service technicians. Through the Giving Veterans a Lift program, Toyota Industrial Equipment dealers helped nearly 300 veterans obtain forklift training and hired several other veterans.
"Veterans have great work attributes that apply to the material handling industry—team leadership, a strong work ethic, adaptability and the ability to problem solve," said Jeff Rufener, president of TMHU. "Toyota is pleased to help veterans receive training that aids them in a material handling career. We look forward to reaching even more service men and women through our program in 2014."
Giving Veterans a Lift supports veterans two-fold. Veterans are encouraged to apply for Toyota Industrial Equipment (TIE) dealership service technician career opportunities at toyotalifttech.com. For every veteran hired by a TIE dealer as a service technician, TMHU will match a dealer's donation (up to $500) to Hire Heroes USA, in honor of the newly hired veteran.
Hire Heroes USA (Hire Heroes) is a national nonprofit organization that provides dedicated, personal assistance to transitioning service members, veterans and their spouses in order to overcome barriers to employment. Hire Heroes has gained national recognition for its comprehensive "recruitment to placement" continuum of veteran assistance and corporate engagement, resulting in two veterans confirmed hired every day.
Through a second facet of the Giving Veterans a Lift program, Toyota and the participating dealer provide discounted forklift operator safety training for veterans. This program is available through Toyota's network of participating dealers and offers veterans a $200 discount, making the training complimentary in most cases. To learn more about the Giving a Veterans a Lift programs, visit: http://www.toyotaforklift.com/pages/training/veterans.aspx.
About Toyota Material Handling, U.S.A., Inc.
Celebrating more than 45 years in business in North America, TMHU is the supplier of Toyota lift trucks, the number one selling brand since 2002. In addition to the full line of high-quality lift trucks, the company's extended industrial equipment solutions include Automatic Guided Vehicles and scissor lifts.
Quality is the hallmark of the Toyota Production System practiced at all Toyota manufacturing facilities, including Toyota Industrial Equipment Mfg., Inc. (TIEM), a zero-landfill facility in Columbus, Ind. TIEM, named a 2011 North American Best Plant by IndustryWeek magazine, is a member of the National Safety Council, complies with the ISO 14001 standard from the International Organization for Standardization and has produced more than 450,000 Toyota lift trucks since its opening in 1990.
Toyota's commitment to excellence in customer service extends throughout the U.S. and Canada. With more than 70 authorized Toyota Industrial Equipment dealers and more than 220 dealership locations throughout North America, Toyota dealers offer comprehensive customer service and support, including one stop shopping for both new and used lift trucks, rentals, parts and service, fleet servicing and financing. For more information on TMHU, please visit http://www.toyotaforklift.com/, www.facebook.com/ToyotaForklift or twitter.com/ToyotaForklift or call 1-800-226-0009.