TOYOTA ENHANCES HAND PALLET TRUCK LINE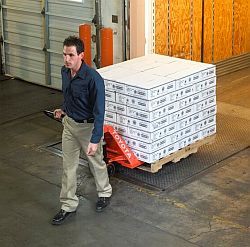 February 25th, 2014 - 10 Models & Specialty Applications Offered to Provide One of the Most Comprehensive Pallet Jack Lines in the Industry
COLUMBUS, Ind., - Toyota Material Handling, U.S.A, Inc. (TMHU), supplier of the number-one selling brand of lift trucks in North America, announced the company enhanced its hand pallet truck offering. Toyota now offers 10 specialty models-ranging from an ultra-low profile to a heavy duty load capacity options-to provide one of the most comprehensive offerings of pallet jacks in the industry. The rugged line is well-suited to meet the demands of general warehousing and storage, retail operations and third party logistics providers, including food and beverage suppliers.
"Toyota's full line of hand pallet trucks offer a material handling solution that delivers performance, productivity and operator comfort-all designed to save our customers valuable time and money," said Bob Bosworth, vice president of sales and marketing of TMHU. "With a diverse product range backed by Toyota's signature quality, durability and reliability, our customers have a full range of options to select a hand pallet truck that fits their specific material handling needs."
For added strength and stability, Toyota offers hand pallet truck options that feature a one-piece, leak-proof hydraulic pump and reinforced frame. In addition, Toyota's hand pallet trucks are backed with a competitive product warranty.
Toyota's full range of unique hand pallet trucks provide long or short fork lengths, narrow or wider fork frames and different lowered fork heights to suit a customer's application. The line-up includes:
Unique Fork Frame Sizes - Toyota offers a specialty model suitable for non-standard pallets, skids and containers used in manufacturing, retail, transportation and warehouse environments. Available with a 5,500 lb. load capacity, the pallet truck offers a standard 3-inch lowered height and 36-, 60-, 72- and 96-inch fork lengths.
Low/Ultra-low Fork Profile - Designed for low clearance openings, two models are available: the low and ultra-low profile hand pallet trucks, each with a 5,000 lb. load capacity. Featuring a 2-inch or 1.38-inch lowered fork height, and supported by solid steel load rollers, the models are ideal for extra low profile skids, pallets or machinery pallets.
4-Way Pallet Entry - The 4-Way Entry pallet truck supports operators who need to easily access their load in all four directions and offers a 5,000 lb. load capacity. With a 2-inch or 1 3/4-inch lowered fork height, the 4-Way Entry hand pallet truck gives the operator more pallet handling diversity and is ideal for retail or warehouse environments that need to optimize valuable space.
Heavy Duty Load Capacity
For extreme work environments, Toyota offers a specialty hand pallet truck providing 8,000 pounds of maximum load capacity. For added durability, operators can leverage the heavy duty chassis with structural channel forks and solid steel wheels and rollers.
Pallet Truck Supports Operations in Multiple Environments
Toyota's hand pallet truck line is ideally suited for customers who move materials in and out of: cold storage facilities; chemical and salt and brine industries; or in areas where frequent wash down is required to remove contaminants. To support work in these harsh environments, Toyota offers two models:
A Galvanized/Zinc-Coated hand pallet truck with 5,500 lb. load capacity; and
A Complete Stainless-Steel model with 4,400 lb. load capacity.

New Innovations for Specialty Applications

Providing alternative solutions out of necessity or continuous improvement is a critical role for the material handling professional. The special application hand pallet truck product range offers new innovative solutions to replace older or outdated equipment. Options include:

A Power Start-Assist Model - boasting a 5,000 lb. load capacity, the hand pallet truck is suitable for ergonomically sensitive applications. The truck's pump handle works to propel the load forward or reverse, and reduces the operator's required force to start and maintain load movement.
Motorized Drive/Manual Lift - with a 2,200 lb. load capacity, the hand pallet truck supports light duty pallet movement and maneuverability. The 24V DC power drive unit leverages two 12V DC batteries and features an onboard automatic charger.
Mobile Weigh Scale - combining a weighing system with the mobility of a hand pallet truck, this model is designed for shipping and receiving applications where documenting inventory is key. The 4,400 lb. load capacity model features an integrated display and control module and provides 35 hours of power.
Skid Lifter - available in a 12V DC-powered electric or manual option, this model offers an ergonomic portable positioning and lifting solution. With 3,000 lb. of load capacity, Toyota provides a 31.5-inch raised lift height and, when lowered, boasts a low profile with a 3.25-inch fork height.