TOYOTA ANNOUNCES WINNERS OF FACEBOOK PHOTO CONTEST 'LIFT A CO-WORKER, LIFT A COMMUNITY'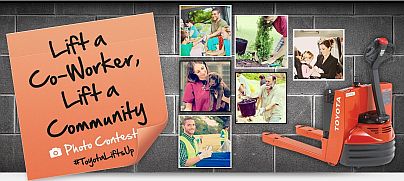 February 26th, 2014 - Nonprofit Organizations Awarded Material Handling Equipment and Monetary Donations
COLUMBUS, Ind. - Toyota Material Handling, U.S.A., Inc. (TMHU) announced the results of the Company's Lift a Co-Worker, Lift a Community Facebook contest designed to recognize outstanding co-workers in the workplace and benefit five nonprofit organizations. The contest, which recently concluded, asked participants to nominate a co-worker for their volunteer efforts and to choose one of five nonprofit organizations to receive a brand new Toyota electric pallet truck.
"Toyota is delighted to help these noteworthy nonprofit groups whose respective work touches various humanitarian, community service and environmental causes," said Melinda Beckett-Maines, national marketing manager of TMHU. "Through the donated material handling equipment and funds, our goal is to help these groups continue to 'lift up' their community."
One winner was selected for each prize category based on votes. The final results are:
1st place: Arbor Day Foundation - recipient of a new Toyota electric pallet truck
2nd place: AMVETS National - new Toyota hand pallet truck
3rd place: Feeding America - new Toyota hand pallet truck
4th place: Best Friends Animal Society - cash donation via Toyota's "Dollars for Denim" program
5th place: Direct Relief - cash donation via the Company's "Dollars for Denim" program
About Toyota Material Handling, U.S.A., Inc.
Celebrating more than 45 years in business in North America, TMHU is the supplier of Toyota lift trucks, the number one selling brand since 2002. In addition to the full line of high-quality lift trucks, the company's extended industrial equipment solutions include Automatic Guided Vehicles and scissor lifts.
Quality is the hallmark of the Toyota Production System practiced at all Toyota manufacturing facilities, including Toyota Industrial Equipment Mfg., Inc. (TIEM), a zero-landfill facility in Columbus, Ind. TIEM, named a North American Best Plant by IndustryWeek magazine, is a member of the National Safety Council, complies with the ISO 14001 standard from the International Organization for Standardization and has produced more than 450,000 Toyota lift trucks since its opening in 1990.
Toyota's commitment to excellence in customer service extends throughout the U.S. and Canada. With more than 70 authorized Toyota Industrial Equipment dealers and more than 220 dealership locations throughout North America, Toyota dealers offer comprehensive customer service and support, including one stop shopping for both new and used lift trucks, rentals, parts and service, fleet servicing and financing. For more information on TMHU, please visit http://www.toyotaforklift.com/, www.facebook.com/ToyotaForklift or twitter.com/ToyotaForklift or call 1-800-226-0009.