TOYOTA HONORS TOP DEALERS WITH ESTEEMED PRESIDENTS AWARD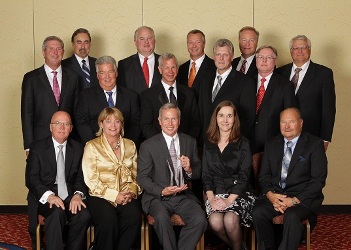 March 29th, 2012 - Toyota Material Handling, U.S.A., Inc.(TMHU) recently announced the 2011 winners of its prestigious President's Award. TMHU selects its top dealers, representing approximately the top 20 percent of the dealer body, each year from a nationwide network of dealers, recognizing them for demonstrating excellence in parts, service and equipment sales, customer satisfaction and overall dealership operations.
This year, 15 winners earned the coveted award and were acknowledged at Toyota's National Dealer Meeting in Phoenix, Ariz.
"The President's Award provides TMHU with a way to recognize our dealers that went above and beyond to demonstrate top quality service and support," said Jeff Rufener, president of TMHU. "The winning dealers clearly exemplify Toyota's dedication to their customers and set the bar for industry excellence."
The winners are:
Atlas Toyota Material Handling, Schiller Park, Ill. - Al Rawson
Bell Fork Lift, Inc., Clinton Township, Mich. - Wayne Bell
Brodie Toyota-Lift, Lawrence, Mass. - Ron McCluskey
Conger Toyotalift, Green Bay, Wis. - Anika Conger-Capelle
Florida Lift Systems, LLC, Tampa, Fla. - Jeff Fischer
JRC Toyota-Lift, Worthington, Ohio - Sam Swartz
Lift Pro Equipment Co., Inc., Sioux Falls, S.D. - Bob Overby and Craig Schoen
Madland Toyota-Lift, Inc., Bakersfield, Calif. - Mary Madland
Nationwide Lift Trucks, Inc., Hollywood, Fla. - Joe Conte
ProLift Industrial Equipment, Louisville, Ky. - David Graffy
Shoppa's Material Handling, Ltd., Fort Worth, Texas - Jim Shoppa
Summit ToyotaLift, North Haven, Conn. - Larry McKevitt
Toyota Lift of South Texas, San Antonio, Texas - Leslie Doggett and Ken Townsend
ToyotaLift of Houston, Houston, Texas - Leslie Doggett and Jim Flowers
Westquip, Inc., Oklahoma City, Okla. - Fred Stanley
The President's Award, TMHU's highest honor, has been awarded to select dealers since its inception in 1990 to acknowledge their outstanding business accomplishments. To demonstrate the company's appreciation, each President's Award recipient received an exquisite Tiffany & Co. crystal award. TMHU also is hosting a trip to the Bahamas for the award recipients.
About Toyota Material Handling, U.S.A., Inc.
Celebrating 45 years of established operations, Irvine, Calif.-based TMHU is the supplier for the No. 1 selling lift truck in North America since 2002. In addition to the full line of high-quality lift trucks sold under the Toyota brand, the company's extended industrial equipment solutions include Automated Guided Vehicles and tow tractors.
Quality is the hallmark of the Toyota Production System practiced at all Toyota manufacturing facilities, including Toyota Industrial Equipment Mfg., Inc. (TIEM), a zero-landfill facility in Columbus, Ind. TIEM, named a 2011 North American Best Plant by IndustryWeek magazine, is a member of the National Safety Council, complies with the ISO 14001 standard from the International Organization for Standardization and has produced more than 400,000 Toyota lift trucks since its opening in 1990.
Toyota's commitment to excellence in customer service extends throughout the U.S. and Canada. With more than 70 authorized Toyota Industrial Equipment dealers and more than 220 dealership locations throughout North America, Toyota dealers offer comprehensive customer service and support, including one-stop shopping for both new and used lift trucks, rentals, parts and service, fleet servicing and financing. For more information on TMHU, please visit www.toyotaforklift.com, www.facebook.com/ToyotaForklift or twitter.com/ToyotaForklift or call 1-800-226-0009.