TOYOTA HONORS ROBERT HULL WITH LIFETIME ACHIEVEMENT AWARD FOR DISTINCTIVE LEADERSHIP AND LONG-TIME SERVICE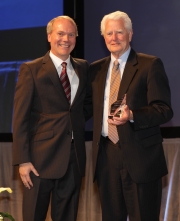 April 4th, 2012 - Toyota Material Handling, U.S.A., Inc.(TMHU) the supplier for the No. 1 selling lift truck brand, today announced Robert "Bob" Hull of Hull Lift Truck, Inc. is the recipient of the company's Lifetime Achievement Award. The award recognizes Hull's influential role in the Toyota dealership network spanning two decades and his company's 50-plus years of service to the industry. The award was presented to Hull recently at Toyota's National Dealer Meeting in Phoenix, Ariz.
"When I think of Bob, I think of dedication and leadership," said Brett Wood, president and CEO of Toyota Material Handling North America. "Bob is a shining example of leadership in his business, his community and his industry. He has contributed immensely to Toyota's success and to the material handling industry."
Hull Lift Truck, Serving the Midwest for 50 Years
Hull has been in the Toyota lift truck family for 20 years and is an 11-time recipient of Toyota's President's Award, which honors the top 20 percent of the dealer body, recognizing them for demonstrating excellence in sales, parts, service, customer satisfaction and overall dealership operations. Today, Hull Lift Truck, Inc. serves its customers from five locations in Elkhart and Fort Wayne, Ind.; and Benton Harbor, Battle Creek and Grand Rapids, Mich. The company was established based on the customer service philosophies of Robert Hull's late father, Edgar Hull, who 50 years ago, in 1962, founded Hull Lift Truck, Inc. with two employees in a modest single office garage in South Bend, Ind.
Building a Family Legacy
Bob Hull led the initiative to become a Toyota Industrial Equipment dealership in 1992 and continued to serve customers in northern Indiana and western Michigan. Like his father, Hull transitioned the business in 2005 to his son, Brian, who currently leads the dealership.
Hull resides in Granger, Ind., with his wife of 50 years.
About Toyota Material Handling, U.S.A., Inc.
Celebrating 45 years of established operations, Irvine, Calif.-based TMHU is the supplier for the No. 1 selling lift truck in North America since 2002. In addition to the full line of high-quality lift trucks sold under the Toyota brand, the company's extended industrial equipment solutions include Automated Guided Vehicles and tow tractors.
Quality is the hallmark of the Toyota Production System practiced at all Toyota manufacturing facilities, including Toyota Industrial Equipment Mfg., Inc. (TIEM), a zero-landfill facility in Columbus, Ind. TIEM, named a 2011 North American Best Plant by IndustryWeek magazine, is a member of the National Safety Council, complies with the ISO 14001 standard from the International Organization for Standardization and has produced more than 400,000 Toyota lift trucks since its opening in 1990.
Toyota's commitment to excellence in customer service extends throughout the U.S. and Canada. With more than 70 authorized Toyota Industrial Equipment dealers and more than 220 dealership locations throughout North America, Toyota dealers offer comprehensive customer service and support, including one-stop shopping for both new and used lift trucks, rentals, parts and service, fleet servicing and financing. For more information on TMHU, please visit www.toyotaforklift.com, www.facebook.com/ToyotaForklift or twitter.com/ToyotaForklift or call 1-800-226-0009.