TOYOTA MATERIAL HANDLING, U.S.A., INC. TO RELOCATE HEADQUARTERS TO COLUMBUS, IND.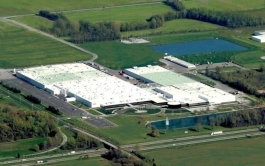 April 12th, 2012 - Toyota Material Handling, U.S.A., Inc.(TMHU) announced today it will be relocating its North American headquarters from Irvine, Calif., to Columbus, Ind. The relocation and eventual closing of the Irvine office will take place in phases, beginning in Fall 2012 and is anticipated to be completed over the next several years.
TMHU, the No. 1 selling lift truck in North America for the last decade, has been headquartered in Irvine since March 2002 at 1 Park Plaza in the Jamboree Center, an Irvine Company property. TMHU currently employs 72 associates in Irvine and another 53 in Columbus. The majority of Irvine associates are being offered relocation and those not moving will be offered severance and job placement assistance.
TMHU's existing Columbus offices are physically connected to Toyota Industrial Equipment Mfg., Inc., a zero landfill manufacturing facility where the majority of Toyota lift trucks sold in North America are built.
"Bringing all TMHU associates under one roof will allow us to be more responsive to customer and dealer needs," said Jeff Rufener, TMHU president. "Being on the Columbus campus with our forklift plant will result in more synergies and improved communications between sales and marketing and manufacturing."
The Irvine move is part of a larger Toyota Industries Corporation (TICO) global vision. TICO, the parent company of TMHU, conducted similar relocations to align sales and marketing with manufacturing plants in Takahama, Japan, and Mjölby, Sweden.
About Columbus, Ind.
Columbus, Ind., holds many appealing accolades for business and personal reasons:
In March 2012, Forbes named Columbus one of America's 10 prettiest towns.
In November 2010, Forbes magazine selected Columbus as one of the top ten best small cities to raise a family, saying Columbus is one of the cities that "sweep our ranking of quiet, prosperous, and family-friendly places . . . these places boast solid average incomes, good educational prospects, low costs, short commute times, and high rates of home ownership."
Columbus was selected as one of only three Indiana cities for Relocate-America's Top 100 Places to Live in 2009, which noted the frequent accolades the city receives "...aren't without good reason with the city's impeccable art, lush landscaping, a first-rate park system, and of course, the outstanding architecture."
Columbus was recognized as one of America's Top 100 best places to live and launch a business by Fortune Small Business magazine in its April 2008 issue.
National Geographic Traveler's "109 Destinations Rated" issue ranks Columbus, Ind., 11th on its list of historic destinations worldwide and describes Columbus as "a world-class collection of modern architecture by master architects . . . it is authentic, unique, and unspoiled . . . this town is truly part of America's architectural heritage."
About Toyota Material Handling, U.S.A., Inc.
Celebrating 45 years of established operations, Irvine, Calif.-based TMHU is the supplier for the No. 1 selling lift truck in North America since 2002. In addition to the full line of high-quality lift trucks sold under the Toyota brand, the company's extended industrial equipment solutions include Automated Guided Vehicles and tow tractors.
Quality is the hallmark of the Toyota Production System practiced at all Toyota manufacturing facilities, including Toyota Industrial Equipment Mfg., Inc. (TIEM), a zero-landfill facility in Columbus, Ind. TIEM, named a 2011 North American Best Plant by IndustryWeek magazine, is a member of the National Safety Council, complies with the ISO 14001 standard from the International Organization for Standardization and has produced more than 400,000 Toyota lift trucks since its opening in 1990.
Toyota's commitment to excellence in customer service extends throughout the U.S. and Canada. With more than 70 authorized Toyota Industrial Equipment dealers and more than 220 dealership locations throughout North America, Toyota dealers offer comprehensive customer service and support, including one-stop shopping for both new and used lift trucks, rentals, parts and service, fleet servicing and financing. For more information on TMHU, please visit www.toyotaforklift.com, www.facebook.com/ToyotaForklift or twitter.com/ToyotaForklift or call 1-800-226-0009.