TOYOTA STRENGTHENS PALLET TRUCK LINE WITH GALVANIZED CHASSIS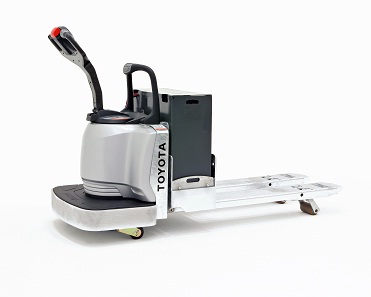 June 1st, 2012 - Toyota Material Handling, U.S.A., Inc. (TMHU), the supplier of the number one selling lift truck in North America, announced today that three models of its AC electric pallet truck line and walkie rider are now available with a Galvanized Chassis option to protect the vehicles while operating in wet environments. The models include the 8-Series AC electric walkie pallet truck (6,000 pound capacity), 8-Series end-control walkie rider (6,000-8,000 pound capacity) and 7-Series electric walkie pallet truck (4,500 pound capacity).
"The galvanized chassis is ideally suited for electric pallet trucks working in salty, high-moisture and corrosive environments where resistance to rust is vital," said Nebojsa Trajkovic, electric product planning specialist for TMHU. "This option helps increase the durability and life of these trucks in extreme conditions, which in turn saves our customers money."
The enhancement in the chassis is ideally suited for customers who move materials in and out of: cold storage facilities; chemical and salt and brine industries; or in areas where frequent wash down is required to remove contaminants. To extend the life of the pallet truck, a number of features have been integrated such as heavy duty Teflon® coated Polylube™ bushings that require no lubrication and add strength and stability along with a motor controller splashguard that helps deflect debris and moisture from entering the traction motor controller area. Additional enhancements over the standard design include:
Galvanized metal frames
Corrosion resistant stainless steel and nickel-plated linkage pins*
Galvanized lower linkages, pull rods and connecting links
Steer bearings easily accessible for lubrication
About Toyota Material Handling, U.S.A., Inc.
Celebrating 45 years of established operations, TMHU is the supplier for the No. 1 selling lift truck in North America since 2002. In addition to the full line of high-quality lift trucks sold under the Toyota brand, the company's extended industrial equipment solutions include Automated Guided Vehicles and tow tractors.
Quality is the hallmark of the Toyota Production System practiced at all Toyota manufacturing facilities, including Toyota Industrial Equipment Mfg., Inc. (TIEM), a zero-landfill facility in Columbus, Ind. TIEM, named a 2011 North American Best Plant by IndustryWeek magazine, is a member of the National Safety Council, complies with the ISO 14001 standard from the International Organization for Standardization and has produced more than 400,000 Toyota lift trucks since its opening in 1990.
Toyota's commitment to excellence in customer service extends throughout the U.S. and Canada. With more than 70 authorized Toyota Industrial Equipment dealers and more than 220 dealership locations throughout North America, Toyota dealers offer comprehensive customer service and support, including one-stop shopping for both new and used lift trucks, rentals, parts and service, fleet servicing and financing. For more information on TMHU, please visit http://www.toyotaforklift.com/, www.facebook.com/ToyotaForklift or twitter.com/ToyotaForklift or call 1-800-226-0009.