TOYOTA Material Handling offering NO PAYMENTS UNTIL 2021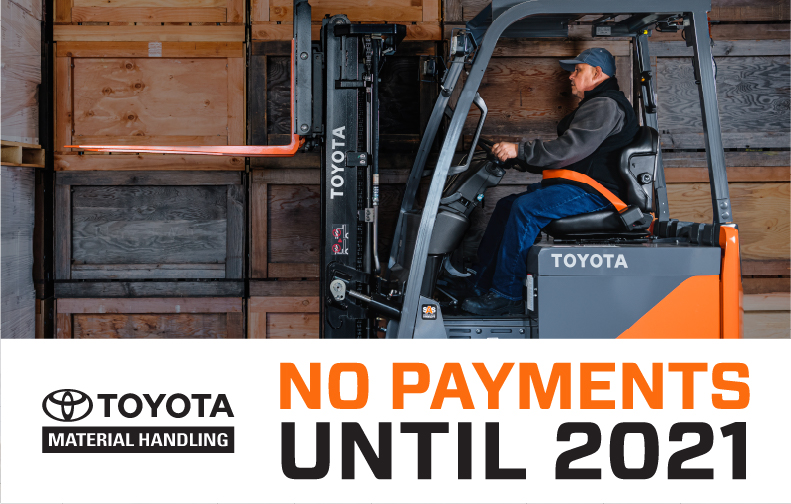 May 12th, 2020 - ALL NEW FORKLIFT AND WAREHOUSE EQUIPMENT LEASES
For a limited time only,
ENJOY NO PAYMENTS UNTIL 2021 ON
ALL NEW FORKLIFT AND WAREHOUSE EQUIPMENT LEASES!
Contact your Experienced Local Equipment salesperson at 828-322-2105
to find out how to take advantage of this program.
Offer Details
Available on all counterbalanced forklifts, reach trucks, order pickers, and electric pallet jacks ࿷ Valid on units ordered before August 31, 2020
Eligible terms include:
• 29-36 months
• 41-48 months
• 53-56 months
• 65-68 months
Additional months added to the beginning of the contract, lengthening the contract period
*No Payments Until 2021 Sales Event ends August 31, 2020. Offer valid on eligible contract lengths only. All offers subject to TICF credit approval. Annual operation must be under 2,000 hours. Leases agreed upon prior to August 31, 2020 and funded on or after September 1, 2020 will have a maximum of four months no payment added to the beginning of the contract with altered eligible term structures. Customers leasing electric forklifts, order pickers, reach trucks, or pallet jacks may select special lease rates between 0% and 3.9% increasing with length contract term. Selecting special lease rates will disqualify from no payment contract months. See your local, authorized Toyota dealer for more details.