MAKE THE SWITCH SALES EVENT!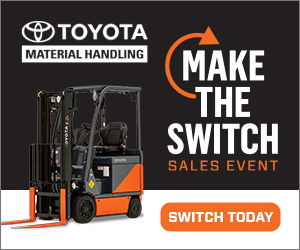 July 8th, 2021 - TOYOTA Material Handling offering their largest rebate for customer trading in LP units to switch to Electric!
MAKE THE SWITCH SALES EVENT
Are you ready to Make the Switch to update your forklift fleet and get more productive? Now through December 31, trade-in any LP, Dual Fuel, or Gasoline forklift and receive a rebate up to $3,500 on a Toyota Electric or Diesel model. Make the switch and see what difference a new Toyota forklift could do for your operation. Don't miss this opportunity!
CALL VESCO TOYOTALIFT at 828.322.2105 to get a quote and trade-in value for the program!
Increased Savings on Electric Forklifts
Built with legendary Toyota durability, efficiency, and quality, Toyota's Electric forklifts are designed to help you tackle all of your material handling needs. These Electric forklifts are used in a wide variety of applications, including manufacturing, warehousing, distribution, beverage, and retail. Plus, indoor and outdoor options will make it easy to improve your efficiency and help you get the job done. Take advantage of the Make the Switch Sales Event and receive a rebate of $3,500!
Now's the Time!
With these savings, there has never been a more perfect time to trade in your older forklift. Make the Switch now and receive our biggest rebates ever when you convert to Electric or Diesel Toyota forklifts.
Electric counter-balanced forklifts, Stand-up rider, and Electric pneumatic forklifts – $3,500
Diesel forklifts – $2,500