TOYOTAS "GIVING VETERANS A LIFT" PROGRAM EXTENDS THROUGH 2013; PROVIDING VETERANS WITH JOB TRAINING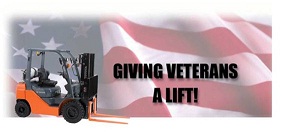 November 9th, 2012 - IRVINE, Calif. – Toyota Material Handling, U.S.A., Inc.(TMHU), the supplier of the number one selling lift truck in North America, created the "Giving Veterans a Lift" program with two objectives in mind.
One to help veterans find employment and two to assist its dealers in recruiting qualified service technicians. In an announcement today, Toyota plans to extend the program through December 2013. Veterans are encouraged to apply for Toyota Industrial Equipment (TIE) dealership service technician career opportunities attoyotalifttech.com. For every veteran hired by a TIE dealer as a service technician, TMHU will match a dealer's donation (up to $500) to Hire Heroes USA, in honor of the newly hired veteran.
Hire Heroes USA (HHUSA) is a nonprofit organization dedicated to creating job opportunities for U.S. military transitioning service members, veterans and their spouses. The services provide in transition and job search assistance, and job placement services, to those who have served in the U.S. military and to their spouses.
"Since the inception of this program, Toyota has seen first-hand how job training can directly help veterans and how veterans' work ethic can benefit business," said Jeff Rufener, president of TMHU. "We are proud that 139 veterans have taken advantage of Toyota's programs this year and hope that many more can learn a new job skill or bring their expertise to our dealerships."
Operator Safety Training Program Provides Discounted Training to Vets
Toyota extended its veteran operator safety training program, which was originally launched in 2011 and provides discounted forklift operator safety training for veterans. This program is available through December 31, 2013 via Toyota's network of participating dealers and offers veterans a $200 discount on the training, which trains individuals how to operate lift trucks.
To learn more about the "Giving a Veterans a Lift" program and the operator safety training program, visithttp://www.toyotaforklift.com/pages/training/veterans.aspx.