TOYOTA EARNS IMPACT AWARDS AT INTERNET MARKETING ASSOCIATION CONFERENCE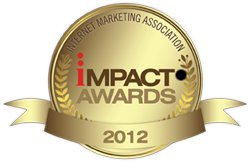 December 12th, 2012 - IRVINE, Calif. - Toyota Material Handling, U.S.A, Inc. (TMHU) recently received an Impact Award at the2012 Internet Marketing Association (IMA) Conference in Las Vegas. 
The 2012 Impact Awards recognize businesses demonstrating superiority in developing innovative and successful Internet marketing strategies and campaigns. Toyota's site,toyotaforklift.com, was honored in the category of 'Best Website Aesthetics.'
"With the website redesign our goals were to create a better user experience and capture and drive sales leads to our dealers, while further strengthening our brand message" said Melinda Beckett-Maines, National Marketing Manager of TMHU. "Not only did the redesign help us reach these goals, it also provided us with measureable results and this wonderful honor."
Toyota's marketing team updated the corporate website repeatedly since its initial launch in 2003, but in 2011 decided to revamp the entire site by adding new features and functionality to better meet the needs of visitors. The new design and user-friendly navigation of the website is credited for generating a 175 percent increase in sales leads for the company. The launch included a mobile site for the increasing number of people visiting from mobile devices. Toyota also launched a new Canadian French and English language site, toyotaforklift.ca that mirrors the look and feel of the United States website.