TOYOTA HONORS TOP DEALERS WITH PRESTIGIOUS PRESIDENT'S AWARD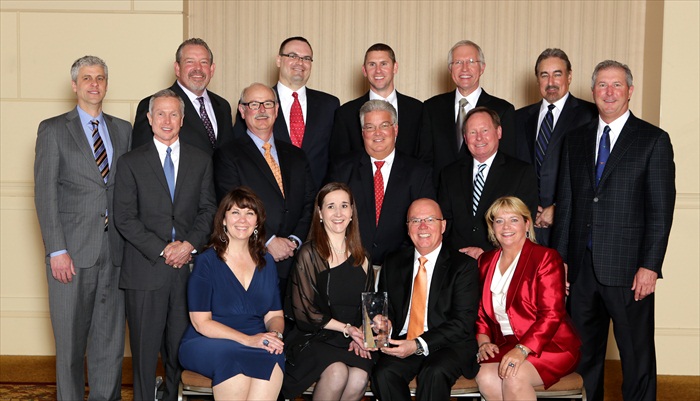 April 3rd, 2013 - IRVINE, Calif. - Toyota Material Handling, U.S.A., Inc. (TMHU) recently announced the 2012 winners of its prestigious President's Award.
TMHU selects its top dealers, representing approximately the top 20 percent of the dealer body, each year from a North American network of dealers, recognizing them for demonstrating excellence in parts, service and equipment sales, customer satisfaction and overall dealership operations.
This year, 15 winners earned the coveted award and were acknowledged at Toyota's National Dealer Meeting in the Austin, Texas area at the Hyatt Lost Pines Resort & Spa.
"The President's Award provides TMHU with a way to recognize dealers committed to top quality service and support," said Jeff Rufener, president of TMHU. "The winning dealers consistently exemplify Toyota's dedication to their customers and set the bar for industry excellence."
The 2012 honorees include:
Allied Toyotalift, Knoxville, Tenn.
tlas Toyota Material Handling, Schiller Park, Ill.
Brodie Toyota-Lift, Lawrence, Mass.
Conger Toyotalift, Green Bay, Wis.
Hull Toyota Lift, Elkhart, Ind.
JIT Toyota-Lift, Frewsburg, N.Y.
JRC Toyota-Lift now a branch of Toyota Material Handling Ohio, Worthington, Ohio
Lift, Inc., Mountville, Pa.
Madland Toyota-Lift, Inc., Bakersfield, Calif.
ProLift Industrial Equipment, Louisville, Ky.
Shoppa's Material Handling, Ltd., Fort Worth, Texas
SwiftLift, Inc., Victor, N.Y.
Toyota Forklifts of Atlanta, Scottdale, Ga.
Toyota Lift of South Texas, San Antonio, Texas
ToyotaLift of Houston, Houston, Texas
The President's Award, TMHU's highest honor, has been awarded to select dealers since its inception in 1990 to acknowledge their outstanding business accomplishments. To demonstrate the company's appreciation, each President's Award recipient received an exquisite Tiffany & Co. crystal award. TMHU also is hosting a trip to Hawaii for the award recipients.