TOYOTA LIFT TRUCKS RANK NO. 1 FOR QUALITY, VALUE AND LOWEST COST OF OWNERSHIP IN RECENT PEERLESS RESEARCH STUDY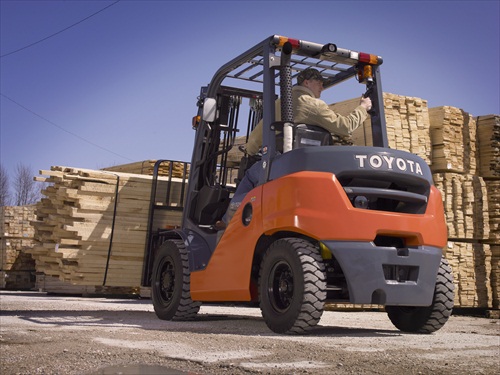 April 23rd, 2013 - IRVINE, Calif., -Toyota Material Handling U.S.A., Inc.'s (TMHU) lift trucks have been ranked number one, for the ninth year in a row, for quality and value in a recent study conducted by Peerless Research Group.
In the category of lowest cost of ownership, the company took top billing for the third consecutive year - since its addition to the survey. No other lift truck manufacturer has ranked number one in quality, value or lowest cost of ownership in this study since its inception in 2004(1).
"Toyota is proud to remain the number one choice in lift trucks for material handling customers," said Jeff Rufener, president of TMHU. "It's especially gratifying to have this validation from the front line that our trucks have the lowest cost of ownership."
Peerless Research Group surveyed 424 qualified respondents involved in the purchasing of material handling equipment. Respondents represented companies from a wide range of industries, including: food and beverages; automotive and transportation; and fabricated metals and industrial machinery.
About Peerless Media and Peerless Research Group
Peerless Media produces industry-leading publications and websites - Modern Materials Handling, Logistics Management, Supply Chain Management Review and Material Handling Product News - for the supply chain, logistics and materials handling markets. As a division of Peerless Media, Peerless Research Group specializes in marketing and media research solutions for materials handling, logistics and supply chain marketers.